Back to Events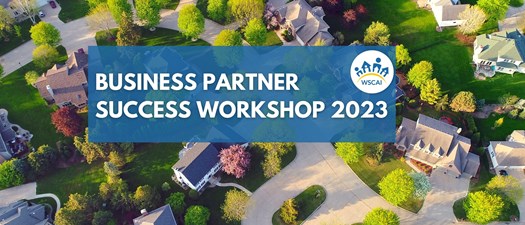 Business Partner Success Workshop
Thursday, September 21, 2023
Event Details
Attention Business Partners – This workshop is designed just for you!
LEARN FROM A TEAM OF INDUSTRY VETERANS ON HOW TO
MAXIMIZE YOUR WSCAI MEMBERSHIP!
Whether you're a seasoned community association industry veteran, new to the industry, or have others in your office that might benefit from learning more, this dynamic workshop will help you better understand the unique differences between community associations and apartments, how the role of the community association manager differs from that of a multi-family property manager, and better understand the inner structure of community associations and the process for bid approval and expenditures.
You'll also learn how economic and other market conditions can impact the industry, how to recognize business resources and leverage other WSCAI partnerships to identify new business opportunities, best position your products and services, maximize your WSCAI membership, and get some tips and tricks on how to be successful at CA Day and other industry events.
There will also be an opportunity to hear ideas from attendees and network virtually with other Business Partners.
(Must be logged in to register as a member)
Speakers
| | |
| --- | --- |
| | Ann Hart is a commercial insurance advisor with HUB International Northwest, and specializes in community association and other real estate coverage. Her 20 years of combined experience in community association management, real estate, senior housing and rental management provides her with a unique foundation and understanding of the industry and how best to serve the associations she works with. |
| | |
| --- | --- |
| | David Silver, Esq. is a shareholder attorney at Peryea Silver Taylor, a law firm focused on advising Washington community associations for over 20 years. Dave has been providing general counsel legal advice to community associations for nearly 15 years. He was most recently a member of the WSCAI Business Partner Committee and is a frequent speaker and contributor to WSCAI events having presented numerous times at Law Day, Made For Managers Day, CA Day and other events. Recently, Dave's article, "When Owners Petition for Meetings & Votes," was featured in the December WSCAI journal. When Dave isn't working he enjoys music, skiing, golf, Kraken games and spending time with his family. |
| | |
| --- | --- |
| | Chelsea Webster, CMCA, PCAM, joined Trestle Community Management in July 2019 and celebrates almost 20 years in the industry. In her role as Senior Community Manager she manages a large, diverse portfolio of associations throughout the Puget Sound, specializing in large scale and active adult 55+ communities. Chelsea has been a very actively involved member of WSCAI since 2008 teaching various educational seminars, serving on the Board of Directors for 2 terms and various committees. She is currently serving as Vice-Chair of the Social Committee. |